Brand fortunes reflective of their story telling ability
Stories have been told and shared for millennia and their importance for brands memorability and credibility is as relevant today as it has ever been. In fact telling stories to convey a sense of purpose and to convince customers they are worth their time and money is becoming increasingly important.
Recent research by Aesop in association with Onepoll asked 2000 people in the UK to rate brands against criteria including brand personality, memorability, credibility and purpose. The results in their brand story telling report is reflective of brands current fortunes with the likes of supermarket brands such as Tesco, Asda and Sainsbury's faring poorly, whilst Aldi (Which? supermarket of the year) rising impressively up the ranks. Another example was UKIP the UK political party doing well with just under 1/5th of the population identifying the controversial party as a storytelling brand.
Charities are the top storytelling category
What was especially interesting to read was that charities were the top-performing brand category in terms of storytelling. Which makes sense as charities place an importance on conveying their vision and purpose and of course consumers rate them as credible. Many put real stories at the heart of their communications – real peoples lives and the effect their work has. All in all it demonstrates that charities have an advantage when it comes to storytelling.
Long form content – story telling that can change the world
Long form content provides in-depth content and allows the communicator to provide their audience with a large amount of detail, to really develop their story and idea, to engage with their audience to a greater degree than short form content (such as brief social media outputs) can allow. Short form content looks to drive customers to long form content where long term relationships can be developed with engaged customers.
So can story telling change the world? Of course it can. It can highlight plight and injustice, hopes and dreams, ideas and actions. Bringing deep awareness and engagement with lives less known. Long form webpages offer the opportunity to mix writing with images, with video, with interactive elements to deliver a truly immersive and engaging platform for the story. Finally when combined with great UX design it can create truly satisfying and inspiring content for the user.
Here are six examples of websites that use long form to great affect.
1. Invisible Child – Andrea Elliott – New York Times – The story of one of New York City's 22,000 homeless children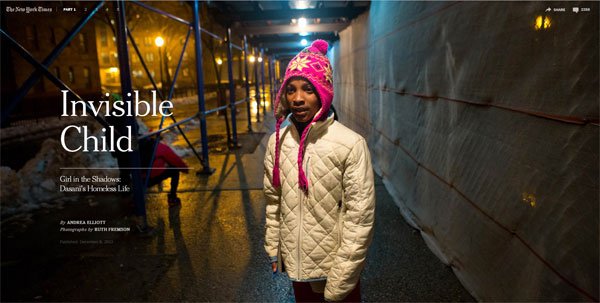 2. The Impossible Refugee Boat Lift to Christmas Island – Luke Mogelson • New York Times Magazine – Along for the ride with a boatload of refugees risking their lives.
3. Narritively – A whole platform devoted to untold human stories. Their network of talented and passionate storytellers and editors comb our world's big cities and hidden corners for the characters and narratives that mainstream media aren't finding—the underdogs and overlooked tales that enlighten us, connect us, and capture our imagination; stories that would otherwise fall through the cracks.  There are too many example to share – investigate and enjoy.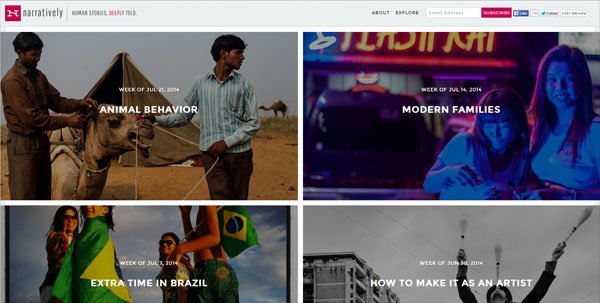 4. Breast Cancer Campaign – The content sets out what needs to be done to address the critical gaps in breast cancer research and mixes up copy, infographics, pieces to camera from staff and researchers, as well as laboratory shots of real breast cancer research that our charity funds.
5. White lake moves beyond its toxic path Jim Lynch – The Detroit Times – For more than 30 years, the beautiful resort community along White Lake near the shore of Lake Michigan has struggled to get out from under the weight of its past.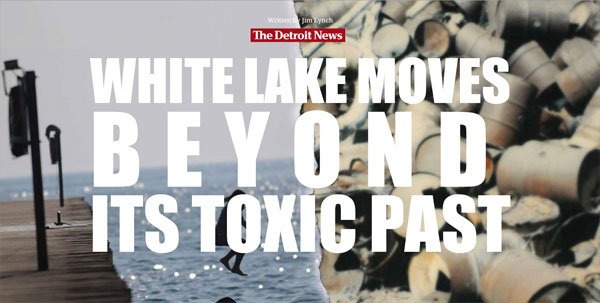 6. Killing Kennedy – National Geographic – A beautifully interactive website that investigates the historical background through themes of ambition, failure, adversity, love & loss, conviction and fate.
Do you have a story to tell? A long form content website might be just what you need. Can we help? We'd love to be involved and help you change your world, tell your story and make a positive difference. Get in touch.