Five things every website owner should know about 'not secure warnings' and what to do about it.
It's October 2017 and online security is once again hitting the headlines. Some of the biggest players in the industry are taking big steps to make the web a safer place for all and this will affect you.
Did you know? Google and Mozilla Firefox are soon to start identifying and penalising 'un-secure' websites and will let your visitors know about it whether you like it or not. The latest announcements from the world's largest browsers are set to be the next biggest thing since 'mobilegeddon'. Read on and we'll explain a little more…
1. What is an un-secure site?
Let's start with the basics…  All you really need to know is that HTTPS is a secure site, whereas a HTTP site is unsecure.
Want to know a little bit more?
HTTP (HyperText Transfer Protocol) and HTTPS (HyperText Transfer Protocol Secure) are both protocols (basically languages) for passing information between web servers and clients.
If your website starts with HTTP, unauthorized parties can view all conversations and information shared.  So you're looking at anything from simple form entry to passwords to credit card information.  Not good eh?
In short: HTTP is not secure, and you should never trust your sensitive information to such a site. HTTPS is secure and is becoming the web standard.
2. Why should I care?
It's been reported that Google is already trawling and identifying 'un-secure websites' and will soon be marking these sites (without HTTPS) as not-secure.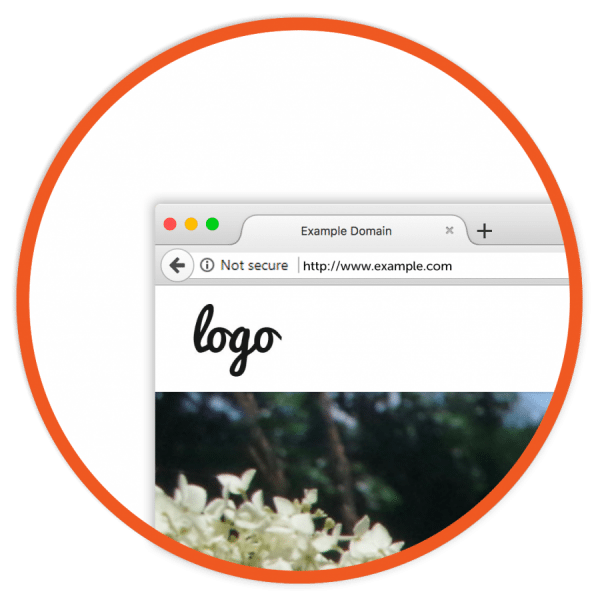 You wouldn't hand out your pin number so why would you trust a site that screams 'I'm Not Secure'?!   With consumers increasingly security conscious on the net, would they stay on your site a moment longer?  The answer is probably not.
This is bad news for companies and your brand.  It's not the 'welcome' message you want your visitors to see as they arrive at your site. 
The real answer is that you need to care as it will certainly have an impact on visitor conversions (even if it is a simple enquiry form) as well as generally lowering engagement on a website.  Not to mention your rankings on Google…a downward spiral you could say.

If your website collects any information, even via a simple contact form, you need to switch to HTTPS.
3. What should I do?
It is no secret that we're strongly recommending that all our clients, if they haven't already done so, should protect their visitors and migrate to HTTPS.  To do this you need to lay your hands on an SSL (Secure Sockets Layer) certificate.
Please don't be scared, this process does not involve pulling your website apart… it's done by updating your hosting account to include an SSL certificate and at that point your website presents to the world securely under HTTPS.
Not sure how to do this? Get in touch with Feelingpeaky and we'll do it for you!
4. How much will it cost?
A one off set up cost of £80 followed by an annual fee of £50 + VAT per website*
* Please note this service and cost is only available when your website is hosted by Feelingpeaky. Year one fees £130+VAT in total (set up and annual fee) followed by £50+VAT per annum in subsequent years. We provide fast and premium quality hosting solutions for businesses. Find out more about our secure WordPress hosting.
5. What happens next?
Nothing once you've migrated to HTTPS.  The hard work is done.  The worry is over…
Until the next time there is a potential online threat to you and your customers security by which time we will have probably been in touch to let you know about it… rest assured we're always one step ahead, reading and sharing news. So watch this space and we'll be in touch with updates and tips on best practice to secure your websites, protect you and your customers.  Just like one big reassuring cuddle.
P.S. Once you've switched to HTTPS it's a good reason to get in touch with your customers to let them know how much you care about online security.