SoccerSuckers is sure to be the biggest collectable craze of the summer, with football fans eager to complete their very own England squad in time for the greatest show on earth – collect all 26 and stick them everywhere!
Launched in major retailers across the UK on 1st April, Feelingpeaky was tasked to produce an appealing website for collectors to come and find out more about SoccerSuckers and drive further interest in collecting the whole set.
Stage one of a bright and attractive site was delivered in record time for the launch. We are now working on stage two – a Flash game to allow collectors to pick their perfect England XI. More to follow on that soon, but for now have a look at the website.
Have a look at the website for yourself: www.soccersuckers.co.uk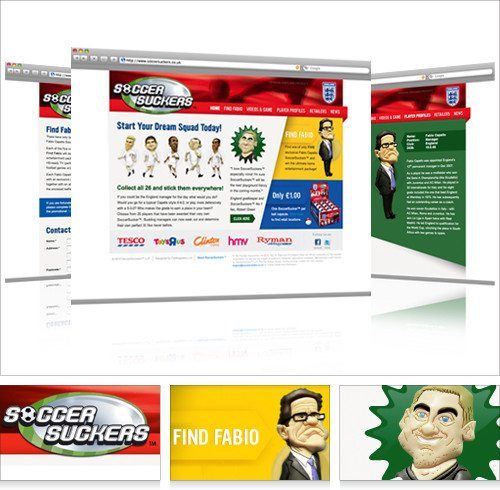 Work completed include:
– Website design and SoccerSucker artwork preparation
– XHTML templates
– Open Source content management system – CMS Made Simple
– Additional Modules – Photo Album, RSS to HTML – to accommodate a sports news feed from the BBC
– Content planning
How can we help you?
For bright, funky website design delivered on time with a smile contact Feelingpeaky on 020 8997 4700 or email hello@feelingpeaky.com.